It's finally happened. Excavation has begun at the Alamogordo, New Mexico landfill which for decades has been rumored to be the final resting place of thousands upon thousands of unsellable overstock copies of the Atari 2600 game E.T. The Extra-Terrestrial. But now it is the rumor which can be laid to rest: it has been confirmed that copies of E.T. have been found.
What many of the news stories fail to mention, however, is that several other game titles and pieces of hardware, including parts for the iconic Atari joystick, were also uncovered at the dig site. What this means is that the site was not merely the dumping ground for E.T. cartridges – or the symbol of the game's supposed failure – it has long been said to be.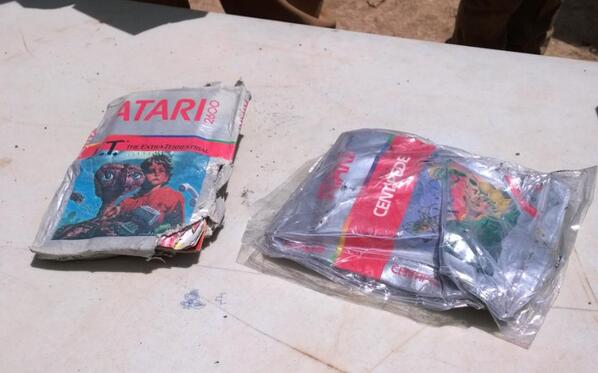 Rather, it seems to corroborate the theory held by leading Atari historians that the site was a dumping ground for an Atari plant in nearby El Paso, Texas that retooled in the mid-'80s. Machinery, computers, and excess inventory – including, but not limited to, E.T. cartridges – were crushed, dumped, and written off by the company. Such practices, while not exactly eco-friendly, were not uncommon at the time.
More questions surrounding the urban legend will be answered as the dig continues. In the meantime, the big question is: how long will it be before games uncovered at the landfill start showing up on eBay?
(c) 2014 Jeffery Koss